Banners are long strips of material bearing a design or slogan to represent a company, government, organization, or other entity. Banners are everywhere, and it can be difficult to point out the differences between them if you are not a designer. They are not rigid, unlike traditional signs.
It is believed that banners are made of cloth. This is not always true as they can consist of different materials with varying degrees of thickness, pliability, and durability. They are differentiated from flags by how they are displayed, rather than by color, designs, or shape.
Hence, there are several factors you must consider before you come up with a banner design. This is why it is advisable that you leave the design to a trusted professional. For the best results, entrust your design projects to us at Attention Getters Design. We will create a unique and outstanding design that best represents your brand at a cheap price. Our goal is to give you the maximum satisfaction you crave. You will definitely like it when you work with us.
Truly, there are different types of banners, and one is different from the other by some classification factors. Let's explore more about this topic below.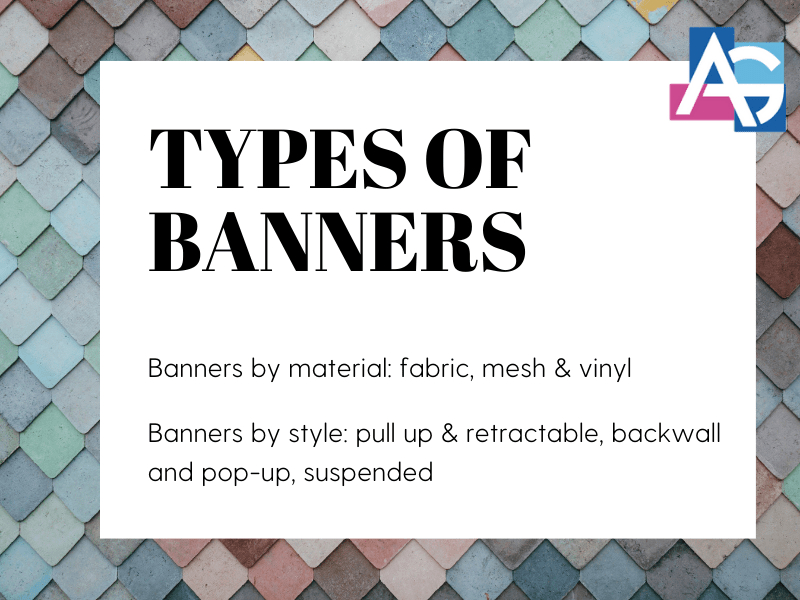 1) Types of Banner by Material
Fabric Banners
These are banners made from materials like polyester and satin. Fabric banners are washable by machines and are crease-resistant. Although you can use these banners for outdoor advertising, it is advisable for indoor uses only.
Mesh Banners
The weave of a mesh banner is permeable. Hence, it allows air to pass through without lifting the banner up. This is the most appropriate banner for outdoor design or adverts.
Vinyl Banners
Are you looking for a banner that can stand the test of time? Vinyl banners are the best. They are tear-resistant and can withstand harsh weather. They can be used both indoors and outdoors, and in comparison to other kinds of banners, are quite heavier.
2) Types Of Banners By Style
Pull Up & Retractable Banners
They are an attractive, double-sided solution for tradeshow events and indoor retail signage. Retractable banners are about six-feet tall with varying width depending on your taste or what you need them for. Their retractable feature allows for almost instantaneous setup, but with the disadvantage that it can't be wider than five feet. Hence, if you have a larger exhibition, you should go for pop-up displays instead.
Backwall And Pop-up Displays
They are often made of fabric and are very effective to get people's attention. Pop-up booths are used to extend across the entire back of an exhibition's shell. This accounts for their usage in big events. The downside is just that their installation may not be as easy as that of a pull-up banner.
Suspended Banners
Banners used for promotion need to be more visible. This is why you see some banners hanging and displayed above the crowd for visibility and promotional impact.
3) Type of Banner By Solution
Promotional Banners
Not all banners are classified according to materials or styles. Some are also classified according to the solution they give. For instance, promotional banners are classified by their purpose. In this case, the promotional banners are majorly for adverts. Announcement banners, event banners, appreciation banners, sports banners, religious banners, and environmental banners all fall into this category.
Work With Attention Getters Design And Let's Help You Plan the Type Of Banner That Befits Your Next Occasion
There are a lot of banner types, depending on your need to create one. You wouldn't want to create a banner that won't serve the purpose you want it to. This is another reason for you to entrust your banner design to us at Attention Getters Design. We are top-notch professional designers and will deliver an aesthetically pleasing and socially acceptable banner for you. You will save yourself a lot of trouble by working with us.