Neon Sign vs. LED Sign – What's the difference?
One of the best ways to attract attention to your business is having a brightly colored and well-lit sign outside to draw people in. We as a species are visual by nature and if you can catch our eye you are more likely to garner our business. While neon signs have traditionally been the frontrunner when it comes to business advertising, the LED market is becoming more popular.
Neon
The most obvious differences between LED and neon lighting is that neon lighting comes in a hand crafted glass tube. The light is created from reactions with an inert gas that emit a fluorescent color due to the release of energy. Neon tubes are beautifully crafted but they are very fragile and there is a risk of damage to the tube if handled incorrectly.
LED
LED lights and signs are created using light emitting diodes (LEDs) which are strung closely together so that the light they emit overlaps and creates a steady source of light. LED signs are usually lighter and more protected than neon lights as LEDs are often wrapped in their own polymer jacket to protect each diode from external damage. Also, the lifespan of LED's is much longer than neon, 10 times longer.
Energy efficiency
If you are looking for the most energy efficient lighting or signage option then LED uses much less power than a neon light. Neon bulbs need 15,000 volts to run while LEDs need just 24 volts. If you are thinking about a large outdoor display and contemplating LED or neon then this means a huge saving in running costs if you were to opt for an LED display.
Cost
The following graphic shows the cost difference over time in electrical use between LED and neon signs.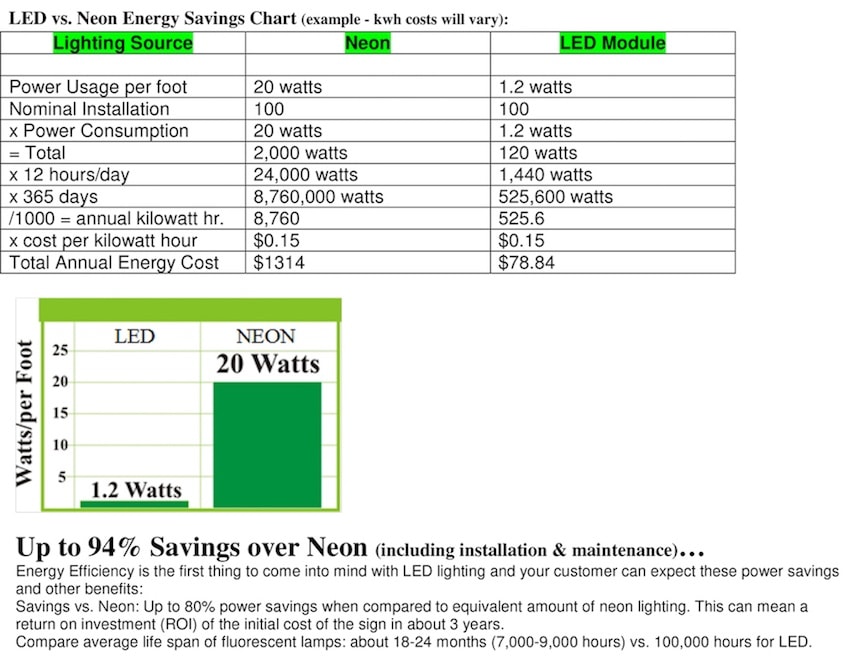 Summary
There used to be a big difference in illumination ability between the two but over the last several years the advancements made to LED brightness has made that negligible. For that reason we recommend LED's for your sign illumination. Easier to install, less power to run, not as brittle and fragile.