GOING GREEN
GOING GREEN IN THE SIGN BUSINESS
Buy from local vendors whenever possible to lessen the amount of distance a product travels
Recycle all office products; paper, cans, plastics, CDs, and anything else we can think of
Buy recycled office and sign products when possible. Unfortunately, the sign industry is new to offering "green products." We are constantly researching for these options. As consumers request them and use them, the price will go down making it more affordable.
Donate old office and computer equipment
Use renewable batteries, recycling them when dead
Donate sign scrap and vinyl products to youth groups; Children's museum, schools, and preschools for art projects
Make suggestions to customers for conserving sign materials for reuse or longer use
Reuse shipping material and supplies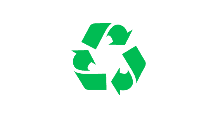 WHAT YOU CAN DO AS A CONSUMER OF SIGNS, BANNERS, AND OTHER RELATED PRODUCTS:
Order a paper banner rather than vinyl for a one day event (depending on the weather)
Reuse old banners as a tarp, covering, or donate to a youth group (if it's still clean) as a canvas on the other side
Order your event color banner without a date and have the date applied in vinyl. It can be removed after your event and a new date added next year.
Reuse coroplast and pvc signs with digital prints by putting new prints on the same size backing or adding the new print to the other side
Request recycled products for your signs and expect to pay more for them
Tell others about sign and banner recycling options