Feather Banners
IMPROVE YOUR BUSINESS WITH US
The best part about our feather banners is: they now feature free shipping!*
Our feather flags or feather banners, are a perfect solution for events and retail outlets to get your message noticed. Use multiple feather flags, flutter flags or feather banners to create a stylish boundary or entranceway at your event or trade show. Feather flags can be single or double sided. Feather banners add movement which attracts the eye, ensuring your promotional message gets the attention it deserves.
The Feather Banner Stand includes a ground mount stake for soft surfaces such as grass, soil or snow. In the Accessories tab, you can substitute an X base for hard surfaces, or order both bases so the stand can be used in any environment. There is an optional donut-shaped water bag for extra stability when using the X base version in windy conditions.
Feather Banners are available in four sizes, from approximately 10 feet to 19 feet in height, to make sure your message gets noticed. This model features aluminum poles and a chrome plated steel base, and includes a fabric carry bag for easy transportation.
(*Free UPS ground shipping within Continental USA only.)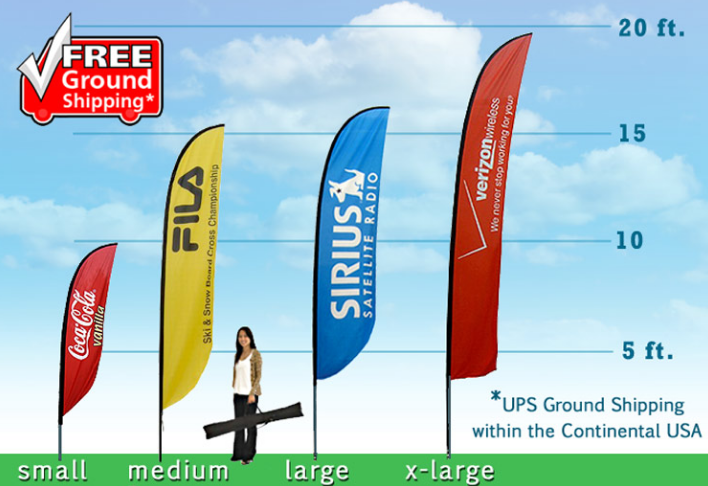 Reviews
CREATIVE AND INNOVATIVE SIGN SOLUTIONS
Talk about true professionals! I can't recommend these guys enough! They ultimately helped me do some planning around my business visibility and I went with some business banners for company in San Diego.
Instructional Videos
for Feather Banners & Stands
QUALITY CREATIVE SIGNAGE. ON TIME, EVERY TIME.
Do Feather & Teardrop Banners Work? Tips On How to Make Them Work Best for You.
Art Set Up for Feather Banners / Feather Flags
How To Put Together a Feather Banner or Teardrop Banner Pole
How to Set Up a Feather Banner / Flag Banner
How to Care for Your Banners and Banner Signs