Banners are a great tool to communicate a powerful message and catch the attention of the viewers. Many companies and organizations have turned to banners as a means of creating awareness for their brands.
Banners are also common in your streets and on the internet. You can see them on social media cover photos to branded advertising on websites, or even as footers and headers on emails. This is to show how several organizations have embraced this tool for marketing and to create awareness.
If you want your brand to pass the right information to your customers, you have to pay attention to the banner you intend to design. It must be eye-catching, engaging, and portray information about your business to your customers. Hence, you must be highly creative and purposeful when creating your design.
To be on the safe side, it is advisable that you work with a skilled professional to help you with your banner design. In this case, you should work with us at Attention Getters Design. We will come up with a befitting design that will represent and speak highly of your business.
Do you also have a flair for creativity and design? Continue reading this article to up your skills and get the best out of design inspiration. We will be laying emphasis on 12 banner ideas you can use for design inspiration. Let's explore more.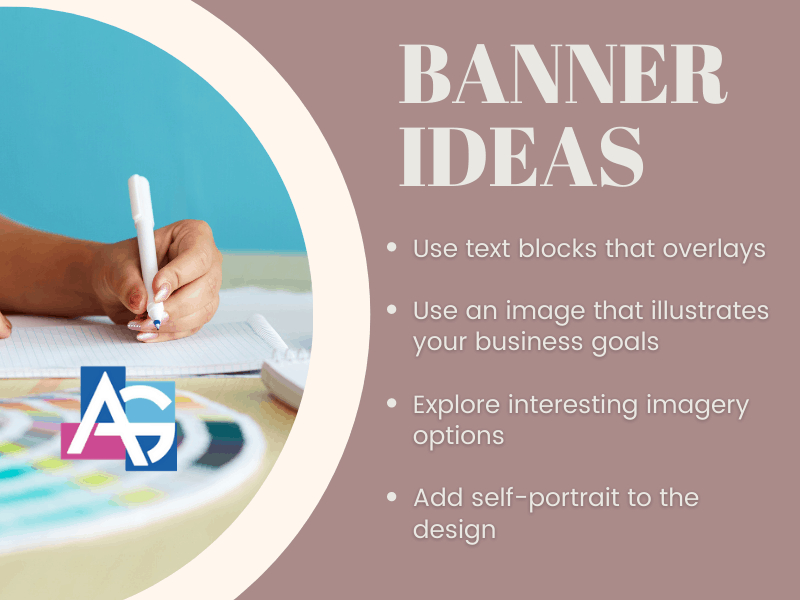 1) Use An Image That Illustrates Your Business Goals
Don't just tell people, show them. Instead of using words to entice your audience, show them an example of what your business or brand has to offer. Of course, let them have a taste of what they should be expecting from you.
2) Enhance Your Banner With A Captivating Picture Effect
You can always tweak a photo to fit your design. And that's what picture effects are there for. If your image portrays important details, avoid filling up space with too much text and let the image do the talking instead. Hence, the picture effect must be captivating and make the visual experience worth it.
3) Use Text Blocks That Overlays
Some texts become hard to read if you just place them on an image. The best way to tackle this problem is to add emphasis to the text and place it in a text block.
4) Use Text, Images, And Graphics To Create Layers
You can always try something new while designing your banner. Find a captivating, relevant photo and overlay shapes on top of it.
5) Provide Value By Using Photo Collage
Another way to showcase imagery on a banner design is to use a photo collage. It enhances the aesthetics and gives more value to the brand.
Sometimes, all you need to acquire perfection is by keeping things simple. Make sure your designs are simple, but impactful.
7) Explore Interesting Imagery Options
Bold imagery would give your design the uniqueness it needs. Meanwhile, you are not limited to use only images to create a good design. You can also use text, graphics, renderings, illustrations, or other forms of art.
8) Brand The Banner With A Personalized Logo, Or Slogan
Your design should be basically about your brand. It can also feature your logo and slogan.
9) Add Self-portrait To The Design
Introduce yourself by adding an image of yourself to the design. It ideally adds trust to the design. Use a recent and relevant photo and make sure the photo communicates the same message as the content of the banner.
10) Use Delightful Colors
Some colors are dull and bland. Selectively use colors that are happy and delightful and not sadistic colors.
11) Try Contrasting Colors Too
Although bright colors may catch your attention, by using contrast colors, they add to the potency of the design. You don't always have to use only one color in your design. You can use contrasting colors to make two things stand out and against each other. Hence, you must be careful with your selection.
12) Use Icons Instead Of Imagery
Icons are excellent design tools. You can use icons to save time in the design process by using them instead of making your own imagery. Icons also allow for consistency since you can customize the color of icons to match with each other.